Lutheran Carnival XVII: Septuagesima
One of the neat things about having old hymnals is that some Sundays have these extremely cool names which no one ever uses.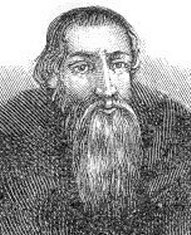 Nikolaus Selnecker
is someone you probably never heard of, yet he was instrumental in the meetings that eventually let to the
Formula of Concord
. He was also a musician and hymnwriter, and had many of the characteristics of his teacher and mentor, Phillip Melanchthon.
Now on to the carnival!
TheMrs of
The Moose Report
starts us off with a humorous post called
Hamming Tremble with my Earring
. She recounts communication collapse due to plugged ears.
Dr. Christopher Atwood of
Three Hierarchies
gives us the post
The Promise, Ex Opere Operato, and Performative Word in Luther's Thought
. Continuing his series on the Babylonian Captivity of the Church, CPA explains how Luther's understanding of the sacraments as promises is the key to understanding both the compatibility of the saving role of the sacraments with justification by faith alone, and the error in thinking they save ex opere operato simply in virtue of being performed.
Mrs T. Swede (a brave woman) of
Journalistic Jargon
sends in a post entitled
On the Blending of Christianity with Islam
. Interesting information has been disseminated from Africa, where, in some countries where Christians and Muslims had clashed in wars for decades, the two religions have merged into one called "Chrislam." Excerpts are taken from the article (at http://news.yahoo.com/s/csm/ochrislam) and elaborated on, regarding the reasons behind blending these two religions. Mrs. T. Swede asks the questions (1) Can this blending really last successfully? and (2) What are the spiritual implications of worshipping two deities as if they were the same when we, as learned Christians, know they are not? A link is provided to the blog of a lady who has done more research into the religion of Islam. The quotes and commentary provided there are excellent for greater understanding of the religion of Islam.
The Aardvark of
Aardvark Alley
has been busy because he sent not one, but two posts. The first,
The Presentation of Our Lord
, he continues posting the feasts and commemorations of the liturgical calendar, this time including some of the history and theological significance of the Presentation of Our Lord in the temple and the Purification of Mary. In his second submission,
Building a Lutheran Presence; Part 1
, the Aardvark provides common sense ways for Lutheran bloggers to improve their sites, hold on to readers, and generally enhance the quality of their content and layout. He promises to continue with ways to increase visibility and attract new readers.
A newer blog that has popped up recently,
Luther Library
, seeks to encourage the reading of good books by confessional Lutheran pastors, church workers, and lay people through regular reviews and recommendations. This sounds like an excellent idea to me. It submitted the posts
The Great Jesus Debates
and
The Defense Never Rests
. The crew at Luther Library hopes to continue writing considerably more reviews than can be noted in any one carnival entry. This means that any number of good reviews won't be mentioned during the Carnival, so browsers are encouraged to read through the other entries, as well. Two of the several new posts are a review of The Great Jesus Debates, a study of early Christology, and The Defense Never Rests, the story of one man's pilgrimage from American Evangelicalism to confessional Lutheranism.
Pr. Snyder at
Ask the Pastor
also sends two posts. In his first,
Hating the Messenger, Hating the Message?
, he examines the problems some people have with their pastors that are outside the realm of what the Lord calls His ministers to be. Pastor Snyder uses the Bible and church history to sort out the differences among practicing what one preaches, Scriptural mandates for pastors, and individual freedom and personal differences. In his second post,
Laughing, Crying, Living, Dying
, Pastor Snyder answers a question about a possible Scriptural connection to the expression " Cry at a birth and rejoice at a funeral." He shows that while this folk proverb contains some truth, it finds its full meaning only in Christ.
TKls2myhrt of
Be Strong in the Grace
also send in a couple of posts.
You can't underestimate the value of a caffeine buzz and a good cupholder
asks the question "Coffee in church?" and goes from there. The second post,
Baptism Dialogue
, she discusses some of the comments thrown around on
this post on Cranach
.
On her other blog,
Katie's Beer
, she gives us
Distraction driven from church
. It it, she tells the tale of a couple who were not allowed to take their young grandchild into a church because he might be a distraction.
Vicar Charles Lehmann of
Drowning Myself Whenever I Can
also sends two posts. The first, a
Sermon for Transfiguration
, shows us that Jesus' glory does not come on the Mount of Transfiguration, but on the cross. His glory is the forgiveness of your sins. In his second
A Devotion for Exodus 14 (uncut)
, he reminds us that The Exodus isn't just about the Israelites. It's about you.
Dan at
Necessary Roughness
also sends two posts. First, he gives us
Onward Christian Environmentalists
. He discusses the diversion of time by evangelical leaders from preaching the Gospel to supporting federal legislation to cap emissions from vehicles and plants. In his second post,
Listening to Luther
, he reviews
Listening to Luther
, a CD from Concordia Publishing House that contains recitation of the small catechism and the six catechetical hymns.
Sean at
Hot Lutheran on Lutheran Action
sends his post
Habits and the Church
. This post speaks out against everything you heard in Sunday school or youth group, insisting that going to church out of habit might actually be a good thing!
Kelly at
Kelly's Blog
submits two posts about the same painting she is working on. The first,
New painting is coming along!
asks a question: How does a young Lutheran artist deal with winter in Canada? By staying inside and painting on really big canvases. Kelly at Kelly's Blog posts some work-in-progress pictures of a painting series based on the saints of Hebrews 11. Abel is the subject of painting #1. In the post
A Bit About Able
, is an explanation of the painting. (ed. While I'm not an artist, the painting is turning out wonderfully).
Pr. Klages of
A Beggar At The Table
, also sends two posts:
Pelagius, Part 1
and
Pelagius, Part 2
. He chips away at Pelagius and the effects of his teachings in this two-part post.
The
Terrible Swede
send his post called
A Chime of Bells...
. He shares general church-bell history, more specifically of his church, Immanuel Evangelical Lutheran (LCMS), downtown Wichita, Kansas. He includes pictures of his best friend, Dan the Geologist, playing (ed.
more like mutilating
) "A Mighty Fortress", a glance at some of the bells and the new pulling rope.
Elle of
IntolerantElle
blesses us with a post called
Evolution Sunday
. She reports on 10,200 clergy who are making it a point to celebrated the birthday of Charles Darwin this Sunday.
Josh of
Here We Stand
didn't submit these two posts, but I'm putting them in here anyway. His posts
A Broken Family
and
Ethnic Boundaries
both discuss the Doctrine of the Church and unity.
Finally, I add the post
Strange Days
to this. For those who ask, the thank you
isn't
sarcastic. It came out of a discussion we had on Thursday.
Thus ends this edition of the Lutheran Carnival. Karl at
Full Throttle and an Empty Gas tank
hosts the Carnival next. Consider this a preliminary reminder: Posts are due by Friday, February 24th. Also, I will be staring to look to fill the slots for Carnivals XXI-XXX shortly. Look for an announcement on the
Lutheran Carnival site
soon.